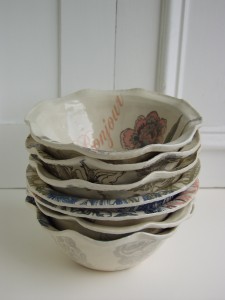 For the longest time (years) I have tried to figure out the "bowl" form. Ironically, I loved to make teapots, a much more complicated form in ceramics. In the teapot, there is the spout, the lid, the knob, the handle, and the teapot body. Trying to combine all those components into a unified piece would seem challenging.  And I suppose it can be for some people.  But for me, the more challenging form was the bowl.  The dreaded bowl.  In the past, I made them too small, too shallow, too thin, etc. Finally, after studying lots of bowl forms, measuring diameters and depths, and various contours, I have come up with my form- at least for now.  But I have to say, I am finally happy with this new series.
My main goal was that the bowl would be generous enough in it's size to fill with cereal, ice cream, or a bowl of soup, and have a wall thick enough to insulate whatever food was in it without burning or freezing the hands of the one holding it. And also that the wall not be too thick that it would be too heavy and cumbersome to carry or hold.
The biggest challenge was making a slump mould and a press mould that would be the correct depth and diameter, so that after the firing, and the 10-13% overall shrinkage rate, the bowl would be the exact (or close to the exact) size that I intended.
The process:
Roll the clay into 1/4+ slabs, cut a large circle, screen print, drape over a slump mould, place into a press mould, scallop the rim, and let sit for 8+ hours uncovered.
I hope you like them as much as I do!