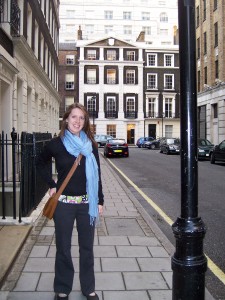 Alice Drew is a full time studio potter who lives with her husband and three children in the South End of Boston. She enjoys making pottery that can beautify one's home and enrich one's life. She received a B.A in studio art from Houghton College in 2000 and her  M.F.A in ceramics from R.I.T at The School for American Crafts in 2003.
Alice was an assistant professor of art at Roberts Wesleyan College from 2006-2011, a  ceramic studio intern in 2004 at the Women's Studio Workshop, in Rosendale N.Y,  and has taught ceramics at RIT, SUNY Brockport, and Houghton College. She teaches  hand-building and thermal screen-printing workshops, and exhibits her work  nationally.
Inspiration: Alice's work is inspired by the bold, rich colors and patterns of damask and brocade fabrics, architectural details from Georgian homes, Turkish mosques and Islamic tiles, perching song birds, deer, vines, clipper ships, and bouquets of wild roses. The highly decorative surfaces of the work are illustrative by nature, but contain only an implied narrative. The animal motif present throughout the work, specifically the perching and flying birds, represent not only the indication of the changes of seasons, but the idea of freedom and adventure. The colors are reminiscent of fabrics and furniture found in the Trianons at Versailles, and Schonbrun Palace. Whispering throughout the work are playful words and bold graphic numbers that represent memories and time.
Surface and Technique: The surface technique used throughout this body of work is a modern form of silk-screen printing, called Thermal Screen Printing. The screen prints are made from photocopies of Alice's original drawings, using a Thermo-fax machine. Each piece is hand built using slab construction. The clay is rolled in to thin slabs; the prints are applied in various compositions and colors using colored slips. The clay is then assembled into the desired form. The work is fired at 2194F.
All Alice's work is food, dishwasher, and microwave safe.