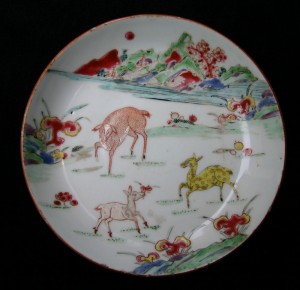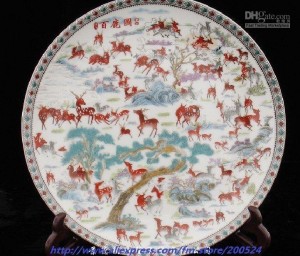 For the past few years I have been incorporating animal motifs
on the surfaces of my work. It started with deer, inspired by
chinese porcelains. These deer were stylized with dots and simplified floral motifs.
My interpretation of using deer was mostly with using it's silhouette.
Then, I started to draw birds.  I know, birds are apparently everywhere in design these days, but artists have been using the bird motif for centuries. I saw the mosaic of a duck (1) in Ephesus, Turkey on the walkway toward the library. The plate with the peacock (2) (which are extremely popular again) is part of the Turkey Archaeological Museum collection in Istanbul Turkey. (Plate 3) 10th century Iran or Uzbekistan.
Below are two recent drawings of a bluejay, cardinal. The third is one that I have used in the past, but redrew, so that it would work well with my newer bird drawings.  My style of drawing birds has evolved over the past couple years. I think that it is becoming more refined, at least I hope it is.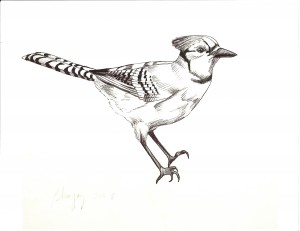 I have also included rabbits,  around Easter, and elephants, just because I like them.
A few years ago I was at an estate sale and I saw a large white ceramic elephant planter from indonesia. (The family holding the sale had been missionaries in Asia for many years.) It was $25.oo. A steal! But for some reason, my husband's voice entered my brain, and said, "We don't need another planter." So I passed it up to some lucky buyer, and I kick myself for not buying it, all these years later, I wish that I had.  Elephants, like birds and deer, and many other popular animal and insect motifs, have appeared in art for centuries. Maybe it is my affinity for the exotic: parrots, monkeys, etc, that I am starting to include elephants into my work. But not just  elephants. Decorated elephants.  In India, the Hindu hold elephant festivals and parades in honor of the animal that, to them, holds deistic qualities.  In my drawing below, a canopy is fastened to the back of the elephant, along with  a blanket and head covering.  Many elephants are decorated much more elaborately than in my drawing, some have their entire skin painted in a myriad of colors and patterns.  I left my drawing more simplified, so that I could add color and pattern as my mood allowed.  I am in the process of drawing capuchi monkeys and ostriches. I thought about peacocks, but I don't want to jump on that band-wagon.  Maybe I will try and tackle parrots next.