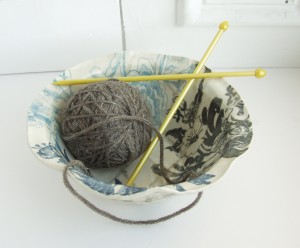 I learned to knit a long time ago from my grandmother. She would knit mittens for me and my sisters and for our friend's families too. In fact my mom came across a grocery bag full of mittens that had never been worn. My grandmother passed away in 2000, so they must have been hiding in a closet at my parents house for a decade+.
Now my son wears those same mittens that we wore growing up- or the newly found ones.  Seeing Henri wear something that my grandmother made inspired me want to carry on that tradition of knitting for my family too.
My mom, sisters, cousin and  mother-in-law also knit, so I had a lot of help getting started again. This post isn't going to show you what I am currently working on, I may save that for another post-(if it turns out well).
This past summer my mother-in-law showed me an article in Vogue Knitting, that talked about the new yarn bowl trend. I had never heard of them, but I wasn't really in the knitting-state-of-mind, so that would have been why it was new to me.  Since then, I have seen a few here and there and I thought it would be fun to try it out- Alice Drew style.
I omitted the "Curly-Spiral" that so many people have been incorporating it their yarn bowls. The main reason, was that in most of the ones that I saw, the cut-out spiral warped during the firings, and looked (pardon me) a bit sloppy. So I decided to use a simple teapot hole cutting tool, with one small circle for the yarn to be threaded through.
So far I have only made one- the prototype. It belongs to my mother-in-law, since she was the one to enlighten me on the subject.
I did try it out and it works very well. I have to say that I am pleased with the results and may be making more in the future.